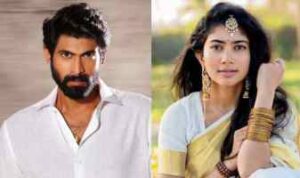 Kolu Kolu Song Lyrics
Singers: Divya Malika, Suresh Bobbili
Writer & Director: Venu Udugula
Music Director: Suresh Bobbili
Producer: Sudhakar Cherukuri
Lyrics: Chandrabose
Sudhakar Cherukuri is producing the movie 'Virataparvam' under the banner of SLV Cinemas under the direction of Venu Udugula and Suresh Productions D Suresh Babu, with Tollywood Bhallaladeva Rana Daggubati and Beautiful Actress Sai Pallavi. Victory Venkatesh released the lyrical song 'Kolukolamma' from the movie on Thursday .. Chandrabose wrote the beautiful lyrics and Suresh Bobbili, the music director, sang along with Divya Malika  'Kolukolamma Kolo Na Sami If the mind is full of dreams .. Hundreds of years can not sleep  The song is impressive with a good feeling.
Kolu Kolu Song Lyrics In Tenglish
Kolu kolo koloyamma komma
Chivarana poolu poose kolo
Puvvulanti sinnadhemo
Moggayyindhi sigguthoti koloyamma
Kolu kolamma kolo kolo
Naa saami manase melukoni chuse
Kalalo nindina vaade kanula mundhara vunte
Noorellu nidhura radhule
Kolu kolamma kolo kolo
Naa saami manase melukoni chuse
Kalalo nindina vaade kanula mundhara vunte
Noorellu nidhura radhule
Pillagadi matalanni gajulalle marchukunta
Kali dhooli bottu pettukuntaa
Kurravadi choopulanni koppulona muduchukunta
Allarantha nallapoosalanta
Vadigoorche aalochane vaadi poni aaradhane
Thaali laaga mello valadhaa
Kolu kolamma kolo kolo
Naa saami manase melukoni chuse
Kalalo nindina vaade kanula mundhara vunte
Noorellu nidhura radhule
Paadhamemo vaadidhanta payanamemo navi anta
Vaadi pedhavithoti navvuthuntaa
Aksharaalu vadivanta ardhamantha nenu anta
Vadi gonthuthoti palukuthuntaa
Praanamantha vadenanta payanamantha vaadenanta
Vaadi premai nene brathakanaa
Kolu kolamma kolo kolo
Naa saami manase melukoni chuse
Kalalo nindina vaade kanula mundhara vunte
Noorellu nidhura radhule
కోలు కోలు సాంగ్ లిరిక్స్ ఇన్ తెలుగు
కోలు కోలో కోలోయమ్మ కొమ్మ
చివరన పూలు పూసే కోలో
పువ్వులాంటి సిన్నదేమో
మొగ్గయింది సిగ్గుతోటి కోలోయమ్మ
కోలు కోలమ్మ కోలో కోలో
నా సామి మనసే మేలుకొని చూసే
కలలో నిండిన వాడే కనుల ముందర ఉంటే
నూరేళ్ళు నిదుర రాధులే
కోలు కోలమ్మ కోలో కోలో
నా సామి మనసే మేలుకొని చూసే
కలలో నిండిన వాడే కనుల ముందర ఉంటే
నూరేళ్ళు నిదుర రాధులే
పిల్లగాడి మాటలన్నీ గాజులల్లే మార్చుకుంటా
కాళీ ధూళి బొట్టు పెట్టుకుంటా
కుర్రవాడి చూపులన్నీ కొప్పులోన ముడుచుకుంటా
అల్లరంతా నల్లపూసలాంట
వాడీగూర్చే ఆలోచనే వాడి పోనీ ఆరాధనే
తాళి లాగ మెళ్ళో వాలదా
కోలు కోలమ్మ కోలో కోలో
నా సామి మనసే మేలుకొని చూసే
కలలో నిండిన వాడే కనుల ముందర ఉంటే
నూరేళ్ళు నిదుర రాధులే
పాదమేమో వాడిదంటపయనమేమో నావి అంట
వాడి పెదవితోటి నవ్వుతుంటా
అక్షరాలూ వాడివంట అర్ధమంతా నేను అంట
వాడి గొంతుతోటి పలుకుతుంటాయ
ప్రాణమంతా వాడేనంట పయనమంతా వాడేనంట
వాడి ప్రేమై నేనే బ్రతకనా
కోలు కోలమ్మ కోలో కోలో
నా సామి మనసే మేలుకొని చూసే
కలలో నిండిన వాడే కనుల ముందర ఉంటే
నూరేళ్ళు నిదుర రాధులే
Rana Daggubati Sai Pallavi Video Song
Kolu Kolu Song Lyrics In English
Colo Colo Koloamma stalk
Flowering colo at the end
Cinnademo like a flower
Shameless self-promotion for Ballistic
Products and a great bargain
On a neat little knife for you
Kolu Kolamma Kolo Kolo
My Sami mind is awake watching
If in front of Wade eyes filled with dreams
Hundreds of years of sleep
Kolu Kolamma Kolo Kolo
My Sami mind is awake watching
If in front of Wade eyes filled with dreams
Hundreds of years of sleep
I change all the child's words in the glass
Kali is putting a blob of dirt
All the boy's eyes narrowed
All of them are black beads
The idea of ​​Wadigoor is Wadi Pony worship
Do not sway like a palm
Kolu Kolamma Kolo Kolo
My Sami mind is awake watching
If in front of Wade eyes filled with dreams
Hundreds of years of sleep
Navi anta padamemo vadidantapayanamemo
Wadi is smiling with his lips
I mean the whole point of using letters
Wadi speaks with a sore throat
Pranamanta vadenanta Payanamanta vadenanta
Wadi premai nene bratakana
Kolu Kolamma Kolo Kolo
My Sami mind is awake watching
If in front of Wade eyes filled with dreams
Hundreds of years of sleep