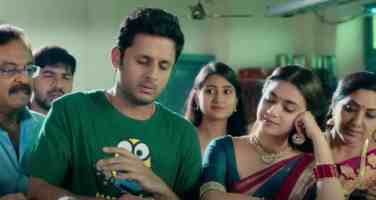 Naa Kanulu Yepudu Lyrical
Singer: Sid Sriram
Starring: Nithiin, Keerthy Suresh
Lyricist: Shreemani
Directed: Venky Atluri
Music: Devi Sri Prasad
As part of the promotion of Nitin's latest movie 'Rang De', Prince Mahehbabu released the lyrical video of the beautiful melody song on Thursday. Music director DevisreePrasad and singer Siddharth Sriram showered praises on the occasion. The superstar is showered with compliments by both Rock Star and Amazing. Fans are dying for the DSP, Sid Shriram Deadly Combination.
Naa Kanulu Yepudu Song Lyrics In Tenglish
Naa kanulu epudu kanane kanani
Pedhavulepudu anane anani
Hrudhayamepudu vinane vinani
Maayalo theluthunnaa
Naa manasu thalupe therachi therachi
Velugu therale parachi parachi
Kalalu nijami yedhuta nilichi
Pilichene ee kshanaana
Cheydhupai theepilaa
Reyipai rangulaa nelapai ningilaa
Guppedu gundeku pandaga eevelaa
Naa kanulu epudu kanane kanani
Pedhavulepudu anane anani
Hrudhayamepudu vinane vinani
Maayalo theluthunnaa
Naa manasu thalupe therachi therachi
Velugu therale parachi parachi
Kalalu nijami yedhuta nilichi
Pilichene ee kshanaana
Yepudu leni ee santhoshaanni
Dhachaalante madhi chaalo ledho
Yepudu raani ee anandhanni
Pondhe hakke naakundho ledho
Naa anelaa naadhanelaa
O prapancham naakivaala sonthamai andhene
Guppedu gundeku pandaga eevelaa
Naa kanulu epudu kanane kanani
Pedhavulepudu anane anani
Hrudhayamepudu vinane vinani
Maayalo theluthunnaa
Nanne nene kalisaano yemo
Naake nene thelisaano yemo
Neelo nanne choosano yemo
Naalaane nene maarano yemo
Naa gathamlo nee kathentho
Nee gathamlo naa kathanthe
O kshanam penchina
Guppedu gundeku pandaga aa velaa
Naa kanulu epudu kanane kanani
Pedhavulepudu anane anani
Hrudhayamepudu vinane vinani
Maayalo theluthunnaa
Naa manasu thalupe therachi therachi
Velugu therale parachi parachi
Kalalu nijami yedhuta nilichi
Pilichene ee kshanaana
Naa Kanulu Yepudu Lyrical Video Song