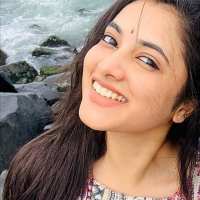 Hey Abbayi Song Lyrics
Song : Hey Abbayi
Cast: Sharwanand, Priyanka Arul Mohan
Music : Mickey J Meyer
Writer & Director: Kishor.B
Lyrics : Krishna kanth
Srikaram is a movie starring Tollywood actor Sharwanand Hero. Directed by Kishore B, the film stars Priyanka Arul Mohan as the heroine.
The film is being produced by Ram Achanta and Gopi Achanta under the banner of 14 Reels Plus. The makers have released the song Hey Boy from this movie.
Following Priyanka's Priyanka, this song, which is playing, makes sense if you watch the latest lyrical video song that is sure to entertain everyone in the theaters.
Hey Abbayi Song Lyrics In Tenglish
No no vaddhanna ninu falo chesthunnaa
Edho roju yes antavani edhure choosthunna
He po p[o pommanna padigape kasthunna
Girl friend ayye moment kosam plane vesthunna
Sorry anna kshamisthana ne vintana vastha emainaa
Hey abbayi he hey abbayi
Inka fojulu chaloyi kastha itepu choodoyi
Hey abbayi he hey abbayi
Siggentoy abbayi neeke muddhoticchinpogottey naa
Hey abbayi he hey abbayi
Nenu choosthunna paruve thesesthunnaa
Poni papam ammayantu vadhilesthu vunna
Nedhe thappunna innalluga thaggunna
Padane nenu vadhiley nannu aapey antunna
Nuvvemanna vasthanannaa ne vintana buddhigaa aagamma
Hey abbayi he hey abbayi
Aapesey golantoo inka elaga cheppali
Hey abbayi he hey abbayi
O meedhe padipoyi itta kalaring isthe kat cheseynaa
Thega preme unna nee paina cheepayyanaa
Tholi choopullona manasu needhe thelusukunna
Ika appatnunche emaina neetho unna
Ika ninne ninne thagina jodane oohisthunna
Nedani repani entha kalame aina
Edhi choodaka okka matapai nenunna
Aina neekidhi ardhamainanu kakunna
Asale ninnu vadhili ponu netho pate nenunta hey
Hey abbayi he hey abbayi
Inka fojulu chaloyi kastha itepu choodoyi
Hey abbayi he hey abbayi
Siggentoy abbayi neeke muddhoticchinpogottey naa
హే అబ్బాయి సాంగ్ లిరిక్స్ ఇన్ తెలుగు { శ్రీకారం మూవీ 2021 }
నో నో వద్దన్నా… నిను ఫాలో చేస్తున్నా…
ఏదో రోజు ఎస్ అంటావని… ఎదురే చూస్తున్నా
హే పో పో పోమ్మన్నా… పడిగాపే కాస్తున్నా
గర్ల్ ఫ్రెండ్ అయ్యే మూమెంట్ కోసం ప్లానే వేస్తున్నా
సారీ అన్నా క్షమిస్తానా… నే వింటానా వస్తా ఏమైనా…
హేయ్ అబ్బాయి హే హేయ్ అబ్బాయి
ఇంకా ఫోజులు చాలోయి… కాస్తా ఇటేపు చూడోయి…
హేయ్ అబ్బాయి… హే హేయ్ అబ్బాయి
సిగ్గేంటోయ్ అబ్బాయి… నీకే ముద్దోటిచ్చి పోగొట్టెయ్ నా…
హేయ్ అబ్బాయి… హే హేయ్ అబ్బాయి
నేను చూస్తున్నా పరువే తీసేస్తున్నా
పోనీ పాపం అమ్మాయంటు వదిలేస్తూఉన్నా
నీదే తప్పున్నా… ఇన్నాళ్ళు తగ్గున్నా
పడనే నేను వదిలేయ్ నన్ను… ఆపేయ్ అంటున్నా
నువ్వేమన్నా వస్తానన్నా… నే వింటానా బుద్దిగా ఆగమ్మా
హేయ్ అమ్మాయి… హే హేయ్ అమ్మాయి
ఆపేసెయ్ గోలంటూ… ఇంకా ఎలాగ చెప్పాలి
హేయ్ అమ్మాయి… హే హేయ్ అమ్మాయి
ఓ మీదేపడిపోయి ఇట్టా కలరింగ్ ఇస్తే… కట్ చేసెయ్ నా
తెగ ప్రేమే ఉన్నా నీ పైన… చీపయ్యానా
తొలిచూపుల్లోనే మనసు నీదే తెలుసుకున్నా
ఇక అప్పట్నుంచే… ఏమైనా నీతో ఉన్నా
ఒక నిన్నే నిన్నే తగిన జోడనే ఊహిస్తున్న
నేడని రేపని ఎంతకాలమే అయినా
ఏదీ చూడక ఒక్కమాటపై నేనున్నా
అయినా నీకిది అర్థమైననూ కాకున్నా
అసలే నిన్ను వదిలేపోను… నీతోపాటే నేనుంటా, హేయ్
హేయ్ అబ్బాయి హే హేయ్ అబ్బాయి
ఇంకా ఫోజులు చాలోయి… కాస్తా ఇటేపు చూడోయి
హేయ్ అబ్బాయి… హే హేయ్ అబ్బాయి
సిగ్గేంటోయ్ అబ్బాయి… నీకే ముద్దోటిచ్చి పోగొట్టెయ్ నా
Video
Hey Abbayi Song Lyrics In English Sreekaram Movie
No No Following You
Looking forward to someday S will say
Hey po po pommanna… padigape kastunna
While making a plan for the moment of becoming a girlfriend
Sorry anna sorry can you hear me come anyway
Hey boy hey hey boy
Inka fojulu chaloi… kosta itepu cudoi
Hey boy… Hey boy
Siggentoy boy You kissed me Pogottey na
Hey boy… Hey boy
I'm looking forward to it
The pony is sadly leaving the girl
If you make a mistake, it will be less than 3 years
If I fall, I will leave
Nuvvemanna vastananna …ne vintana buddiga agamma
Hey girl Hey hey girl
Apesey Golantu… How else to say
Hey girl Hey hey girl
If you fall for it and give itta coloring, cut it
No matter how much the tribe loves you
Even if the mind knows you at first sight
Anything has been with you ever since
Assuming one is the right pair for yesterday
No matter how long today is tomorrow
I was on the verge of not seeing anything
Even if it doesn't make sense to you
I will never leave you I am with you, hey
Hey boy hey hey boy
Inka fojulu chaloi… kosta itepu cudoi
Hey boy… Hey boy
Siggentoy boy… You kissed Pogottey na