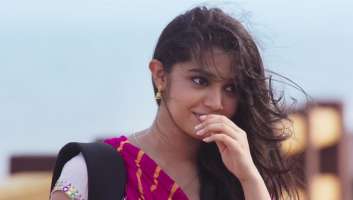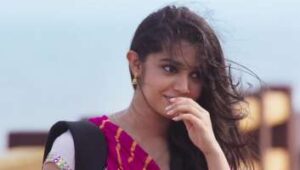 Jala Jala Jalapaatham
Singers: Jaspreet Jasz & Shreya Ghoshal
Directed: Buchi Babu Sana
Editor: Naveen Nooli
Lyrics: Sreemani
Panja Vaishnav Tej and Krithishetti have teamed up with #Sukumar Writings to produce the film '#Uppena' produced by #MaitriMovie Makers. Buchibabu Sana is becoming known as a director. #Devisree Prasad composed the voices. The film, which was supposed to be released last year, was delayed due to a lockdown. However, everyone knows the huge success of the song 'Jala Jala Jalpatam Nuvvu' released from this movie.
Uppena Krithi Shetty Song Lyrics In Telugu
జల జల జలపాతం నువ్వు
Jala jala jalapaatham nuvvu
సెల సెల సెలయేరును నేను
Sela Sela selayerunu nenu
సల సల నువ్వు తాకితే నన్ను
Sala sala nuvu thakithe nannu
పొంగె వరదైపోతాను
Ponge varadhaipothanu
చలి చలి చలి గాలివి నువ్వు
Chali Chali Chali gaalivi nuvvu
చిరు చిరు చిరు అలనే నేను
Chiru Chiru Chiru alane nenu
చర చర నువ్వల్లితే నన్ను
Chara chara nuvvallithe nannu
ఎగసే కెరటాన్నవుతాను
Yegase keratannavuthanu
హే మన జంట వైపు
Hey mana janta vaipu
జాబిలమ్మ తొంగి చూసెనే
Jaabilamma thongi choosene
హే ఇటు చూడకంటూ మబ్బు
Hey itu choodakantu mabbu
రెమ్మ దాన్ని మూసేనే
Remma dhaanni moosene
ఏ నీటి చెమ్మ
Ye Neeti chemma
తీర్చలేని దాహమేసెనే
Theerchaleni dhahamesene
జల జల జలపాతం నువ్వు
Jala jala jalapaatham nuvvu
సెల సెల సెలయేరును నేను
Sela Sela selayerunu nenu
సల సల నువ్వు తాకితే నన్ను
Sala sala nuvu thakithe nannu
పొంగె వరదైపోతాను
Ponge varadhaipothanu
చలి చలి చలి గాలివి నువ్వు
Chali Chali Chali gaalivi nuvvu
చిరు చిరు చిరు అలనే నేను
Chiru Chiru Chiru alane nenu
చర చర నువ్వల్లితే నన్ను
Chara chara nuvvallithe nannu
ఎగసే కెరటాన్నవుతాను
Yegase keratannavuthanu
సముద్రమంత ప్రేమ
Samudhramantha prema
ముత్యమంతా మనసు ఎలాగా
Muthyamantha manasu yelaga
దాగి ఉంటుంది లోపల
Daagi untundhi lopala
ఆకాశమంత ప్రణయం
Aakaashamantha pranayam
చుక్కలాంటి హృదయం
Chukkalaanti hrudhayam
ఇలాగ బయట పడుతోంది ఈ వేళ
Ilaaga bayata paduthondhi ee vela
నడి ఎడారి లాంటి ప్రాణం
Nadi yedaari laanti praanam
తడి మేఘానితో ప్రయాణం
Thadi meghanitho prayanam
ఇక నా నుంచి నిన్ను
Ika naa nunchi ninnu
నీ నుంచి నన్ను తెంచలేదు లోకం
nee nunchi nannu thenchaledhu lokam
జల జల జలపాతం నువ్వు
Jala jala jalapaatham nuvvu
సెల సెల సెలయేరును నేను
Sela Sela selayerunu nenu
సల సల నువ్వు తాకితే నన్ను
Sala sala nuvu thakithe nannu
పొంగె వరదైపోతాను
Ponge varadhaipothanu
ఇలాంటి తీపి రోజు రాదు రాదు రోజూ
Ilaanti theepi roju radhu radhu rojoo
ఎలాగ వెళ్లిపోకుండా ఆపడం
Elaaga vellipokundaa aapadam
ఇలాంటి వాన జల్లు తడపదంట ఒళ్ళు
Ilaanti vaana jallu thadapadhanta ollu
ఎలాగా దీన్ని గుండెల్లో దాచడం
Elaga dheenni gundello daachadam
ఎప్పుడు లేని ఏకాంతం
Eppudu leni yekaantham
ఎక్కడ లేని ఏదో ప్రశాంతం
Yekkada leni yedho prashantham
మరి నాలోనే నువ్వు నీలోన నేను
Mari naalona nuvvu neelona nenu
మనకు మనమే సొంతం
Manaku maname sontham
జల జల జలపాతం నువ్వు
Jala jala jalapaatham nuvvu
సెల సెల సెలయేరును నేను
Sela Sela selayerunu nenu
సల సల నువ్వు తాకితే నన్ను
Sala sala nuvu thakithe nannu
పొంగె వరదైపోతాను
Ponge varadhaipothanu
చలి చలి చలి గాలివి నువ్వు
Chali Chali Chali gaalivi nuvvu
చిరు చిరు చిరు అలనే నేను
Chiru Chiru Chiru alane nenu
చర చర నువ్వల్లితే నన్ను
Chara chara nuvvallithe nannu
ఎగసే కెరటాన్నవుతాను
Yegase keratannavuthanu
జల జల జలపాతం నువ్వు Video Song
Jala Jala Jalapaatham Song Lyrics In English Uppena Movie
You are a waterfall of water
Sela Sela Selayeru I
If you touch me
The flood will overflow
You are the cold wind of cold
Chiru Chiru Chiru Alane I
If you are a variable variable me
Egase will be a wave
Hey our couple side
Jabilamma hanging and watching
Hey itu cloudy than looking
The shoot closes it
No water moisture
Unquenchable thirst
You are a waterfall
Sela Sela Selayeru I
If you touch me
The flood will overflow
You are the cold wind of cold
Chiru Chiru Chiru Alane I
Chara Chara If you are me
Egase will be a wave
Sea love
How the whole mind
Is hidden inside
Sky-high love
Dotted heart
This time it's coming out like this
Life is like a desert
Travel with a wet cloud
Now you from me
The world did not cut me off from you
You are a waterfall
Sela Sela Selayeru I
If you touch me
The flood will overflow
Such a sweet day does not come every day
How to stop going
Similar rain showers
How to hide it in the hearth
Loneliness that is not always there
Something calm where not
And in me you are in me
We own ourselves
You are a waterfall of water
Sela Sela Selayeru I
If you touch me
The flood will overflow
You are the cold wind of cold
Chiru Chiru Chiru Alane I
Chara Chara If you are me
Egase will be a wave