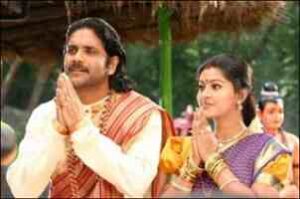 Antha Ramamayam Song
Producer: Konda Krishnam Raju
Music Director: M. M. Keeravani
Movie Name: Sri Ramadasu
Director: Kovelamudi Raghavendra Rao
Cast: Akkineni Nageswara Rao, Akkineni Nagarjuna, Suman, Sneha,
Lyrics: Ramadasu Keerthana
Singer: SP Balu
 Song History
Akkineni Nagarjuna, Sneha starrer Bhakti is the main film Sriramadas. The devotional song 'Anta Ramamayam .. Ee Jagamanta Ramamayam' from the movie is for you. Krishna Raju acted as the producer of the movie directed by Raghavendra Rao. Music Director MM Keeravani. Aditya Music provided the song.
Sri Ramadasu Movie Songs Lyrics In English
Everything is Ramamayam all over this world
Ramamayam … Antha Ramamayam ..
The soul within ..
Infinite novelties …
Somasuryulu suralu stars
Those greats are all jumbo
Everything is Ramamayam .. this whole world
Ramamayam … Everything is Ramamayam
The ovaries are the ovaries
Brahmandambus start with Brahmins
Rivers, forests, and various beasts
Vihitakarmas are the Vedas
Everything is Ramamayam … this whole world
Ramamayam … Everything is Ramamayam
అంతా రామమాయం ఈ జగమంతా రామమయమ్ Video Song