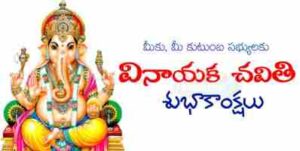 Vinayaka chavithi Poems
Vinayaka Chavithi Hymn
Om devinvacha majanayanta devastam visvarupa: pasavo vadanthi .. sano mandresha murjam duhanadhe nurvagasmanupa sushtutaittu.
ayam muhurtassumuhurtostu' ya shivo namarupabhyam ya devi sarva mangala tayo ssamsmaranato sasvamsam thava.
Place the statue of Ganesha on a plate, add yellow to the milkweed, drizzle with saffron and hang it on the head of the idol. Put paper on it and decorate it with corn husks and teeth on all four sides.
Prepare pastries like dumplings, dumplings, pudding, gherkins, pulihora, modaks, zilla nuts etc. Take a copper or brass pot, add turmeric, put water in it, put a nut on top and a blouse to form a pot.
Vinayaka chavithi Poems In Telugu & English 2021
Thondamu Nekadantamunu Thorapu Bojjayu Vamahastamun
Menduga mroyu gajjelunu mellani chupula mandahasamun.
Nojjayai, the schoolgirl who sought the gujjurupamuna hill
Yundedi Parvati Tanaya Oi Ganadhipa Niku Mrokkedan.
Headless calculator
As the headless Vignapati wanted
Dala Chedane Herambuni
I want to get rid of my vignes
The beads are coconut shells
Chitti Gingerbread Nanubralu Cherakurasambun
Nitalakshu Nagrasutunu
Batutaramuga feasted and prayed.
తొండము నేకదంతమును తోరపు బొజ్జయు వామహస్తమున్‌ Ganapathi Astothara Satha naamavali Video