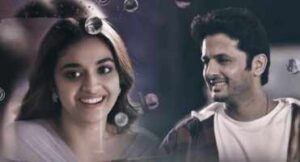 Rangule​ Song Lyrics
Singer: Shweta Mohan
Directed: Venky Atluri
Starring: Nithiin,Keerthy Suresh
Lyrics: Shreemani
Produced: Suryadevara Naga Vamsi
Music: DSP
The movie 'Rangde' starring Nitin as the hero. The film is directed by Venky Atuluri and stars Kirti Suresh in the lead role. Suryadevara Nagavanshi is producing under the banner of Sithara Entertainments with a presentation by PDV Prasad.
The team has recently released a lyrical video song for the film, which is set to release on March 26. Shweta Mohan sang the lyrics of the song which said, "A new blue color rises in my eyes … When they see you … A new red color is born in my cheek". The music provided by Devisree Prasad is catchy. The film stars Naresh, Rohini, Kausalya, Brahmiji, Vennela Kishore, Satyam Rajesh, Suhas and others.
Rangule​ Song Lyrics In Tenglish Rang De Movie 2021
Na kallalo kottha Neeli rangu pongene
Adhi ninnu choosinappude
Na chempalo kottha erupu rangu puttene
Nuvvu nannu choosinappude
Nuvvele dharantha paccha rangesinattundhe
Nee vente nenunte padhalake pasupu poosindhe
Rangule rangule nuvvu pakkanunte rangule
Rangule rangule meni anni kottha rangule
నా కళ్ళలో కొత్త నీలి రంగు పొంగేనే సాంగ్ లిరిక్స్ ఇన్ తెలుగు ( రంగ్ దే మూవీ )
నా కళ్ళలో కొత్త నీలి రంగు పొంగేనే
అది నిన్ను చూసినప్పుడే
నా చెంపలో కొత్త ఎరుపు రంగు పుట్టనే
నువ్వు నన్ను చూసినప్పుడే
నువ్వేలే దారంతా పచ్చ రంగేసినట్టుందే
నీ వెంటే నేనుంటే పేదలకే పసుపు పూసిందే
రంగులే రంగులే నువ్వు పక్కనుంటే రంగులే
రంగులే రంగులే మేని అన్ని కొత్త రంగులే
Rangule​ Video Song
Rangule​ Song Lyrics In English Rang De Movie 2021
New blue in my eyes
Only when it sees you
A new red color was born on my cheek
Just when you saw me
It's like you're all green
If you are behind me, the poor are painted yellow
Colors are colors if you are next to them
Colors are all new colors